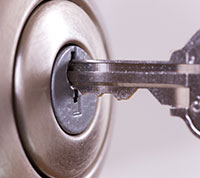 Playing with keys is like playing with fire! There are certain things you require to do in order to keep secure and there are things you must never do with your keys. Just because they are tiny doesn't mean that their importance is trivial, too. On the contrary, keys are extremely important for your security since they ought to fit in the door locks perfectly and secure your house properly. Small scratches, tiny distortions and first signs of rust must not go unnoticed. Key replacement will be required and it will be required quickly. The point is to avoid such issues in order to prevent emergencies.
Protect your keys, protect your world
Who doesn't know that keys are not toys? And yet people still give them to crying babies to quiet them down! Keys come with responsibilities. It's not an accident that most children are not allowed to carry their house keys until they are in a more mature age! Keys will give you trouble if they are damaged or lost. In both cases, your daily schedule will change and your house's security will be compromised. The most obvious result from distorted keys is being locked out. You will still experience a house lockout if the keys are lost. Only in this case you won't know whether the keys were indeed lost or stolen. For this reason, in the latter case it would be best to proceed with lock rekey and get a new key to avoid surprises.
Think of the basic things keys serve you for. They ensure your kids are safe from hazardous things you keep in the house by securing the cabinet locks. They certainly secure every entrance of the house. They make sure the drawers remain locked and thus your valuables secure. They will lock your briefcase or suitcase in the airport. They will secure private areas, rooms and file cabinets. They will keep your world secure. So, do yourself a favor and stop playing with them. Don't give them to anyone and proceed with key change before rust will make them unable to secure your world.